Foundations of Vinyasa Krama Yoga
Inspiring Deep(er) Practice through Yoga in the Krishnamacharya tradition
Postponed: Date TBD
Friday 5-8
Saturday 8-12 / 1:00-4:30
Sunday 8-12 / 1:00-4:30
***18 hours CEU available for RYTs
---
This weekend intensive will introduce you to the Vinyasa Krama method as a means for comprehensive self practice and study. Vinyasa Krama is the term used to describe yoga practice as taught by Srivatsa Ramaswami, handed down to him through over 30 years of direct study with his guru Sri T. Krishnamacharya (father of modern yoga). It is an intelligent and artful practice weaving together all limbs of the 8 limbed path in a cohesive, practical and personalized manner. This is traditional yoga for all.
Whether you are a practitioner or a teacher this weekend will help to guide you in the path of deep(er) practice. For practitioners this weekend will give you the tools to take your practice into a more personal route . For teachers, this weekend will give you a better understanding of weaving together a comprehensive practice from movement to meditation for your own self development and your students.
Not recommended for those brand new to yoga but also not only for adepts. You must be comfortable with ujjayi breathing and basic yoga terminology. Have questions? Please ask! Jennifer@campbellyoga.com
What you can expect:
an overview of key vinyasas
an understanding of asana and mudra in yoga practice
preliminary pratyahara and pranayama techniques
meditation template for personal development
the "why" and the "how" of home practice (the gunas, kriya yoga and the 8 limbed path)
direction on establishing a personal practice
Please bring:
a notebook and something to take notes with
water bottle with sealable lid
a packed lunch (light and easily digestible is best)
Basic Schedule:
Friday Night: Introduction to vinyasa krama. Opening practice
Saturday and Sunday morning: Vinyasas and Asana practice and breakdown
Saturday and Sunday afternoon: 1-2:30 Yoga Theory and application of practice to daily life 2:40-4:30 Pranayama, Mudras and Intro to Meditation
Suggested Resources:
---
***Please eat a light breakfast by 6:30am on Saturday and Sunday to allow ample time to digest. Fruit is a good option.
***No filming please during session. Please leave phones turned off to avoid distractions and disruptions. Special considerations may apply -again just ask! 🙂
Self Investment:
Early Bird: Please Register $295
Full Price: $350
---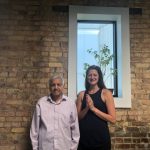 Jennifer Campbell-Overbeeke E-RYT500 YACEP has been teaching yoga for over a decade and practicing for close to 20 years. She is thrilled to bring the lineage of Krishnamacharya forward as taught to her by her Guru Srivatsa Ramaswami- the longest standing student of Sri Krishnamacharya outside the direct family. This practice is a great boon to all and she is ecstatic to share the rich and in depth tradition. The gifts are endless!