It's been a week of lack luster inspiration in the kitchen…except for a few bright and brilliant (well at least to my taste buds) creations. Two of my new recipes are screaming to be unleashed. I hope you enjoy their simplicity, versatility, health and epic flavor.
I'm pairing these together for two reasons:
A) I'm a bit lazy today and don't feel like writing two posts 😉
B) they are both multi-functional and can be used in multiple fashions
C) They are easy.
VEGAN CASHEW BASIL PESTO (Raw)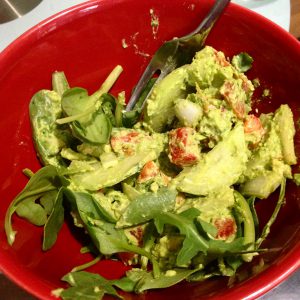 Ingredients:
1/2 C Raw Cashews (Soaked)
1/4 C fresh basil leaves
1-2 C chopped kale or other hearty greens
2-3 T Olive Oil (Fresh Cold-Pressed)
1/2 Medium to Large Ripe Avocado
Sea Salt to taste
juice of 1/2 lemon
4 cloves garlic (OK I may have used 6 but i'm a garlic fiend)
Options: nutritional yeast for that yummy buttery flavor, turmeric for extra yum and immune benefits.
Directions:
It couldn't be easier. Just boil a few cups of filtered water and then flash cook the kale for about 45 seconds before straining and putting in your food processor, layer the other ingredients and then blend. And Voila! Vegan Pesto! This makes a thicker pesto so you could always add a bit of the kale water to make it a bit more liquid but I like it thick.
Options:
It goes great on fresh cut cucumber, tomato, onion etc for a fresh summer salad (throw over leafy greens as a summer salad, make some kelp noodles for a raw pasta option, or even rice pasta for a gluten free cooked option. It's thick enough to be a spread too in a wrap as the protein and fat source. Just add your veggies and roll.
VEGETARIAN BANANA PROTEIN "PUDDING" (Vegan option)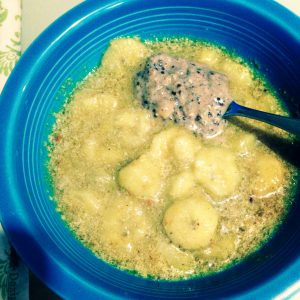 Ingredients
1 ripe banana sliced
1/2 C-3/4 C unsweetened almond milk
1 heaping teaspoon of ghee (clarified butter)
Cinnamon or garam masala to taste
a dash of turmeric (to get the golden hue)
sea salt to taste
1-2T almond butter or "Nuttzo" Seven seed power fuel nut butter (optional)
organic maple syrup or local honey to taste (optional)
Directions:
Slice banana and place in a small soup pot on low-medium heat. Cover in the almond milk and ghee. You can keep it chunky or mash it up. Stir regularly to avoid burning the milk. Add high quality cinnamon, turmeric and/or masala after a few minutes. The mixture should have a golden and bright hue as the bananas and almond milk blend. You may see a few little "bubbles" but don't let it cook too long as it will start to crystalize on the bottom and stick to the pot.
Remove from pot and place in a bowl to cool a bit. I like mine warm though. You can add a dash of sea salt and a drizzle of maple syrup or honey if you like at this point. It's plenty sweet though!
Options:
To make this vegan use coconut oil instead of ghee. The flavor will be less buttery but still delicious.
You could add this to ice cream or plain yogurt for a little extra yum. I'm sure it's delicious in a bowl of oatmeal or even warm rice too! I had a vision of soaking this mixture with a little extra almond milk and maple syrup over night on some sliced seed bread for a sort of faux banana bread pudding but that notion is untested 😉
I had mine as is with 2T of Nuttzo Power Fuel Seven Seed and Nut Butter mixed in (as I still haven't mastered the art of making nut butter with my vitamix) for extra protein and deliciousness. It is like a healthy and satisfying dessert for breakfast and so easy to digest (which is important for me much of the time).
I'd love to hear how you enjoy these recipes and other ways you think of using them! Please share the love <3