The Art of Sequencing for Yoga Teachers
October 25, 2014 @ 1:00 pm

-

6:00 pm

UTC-4

$108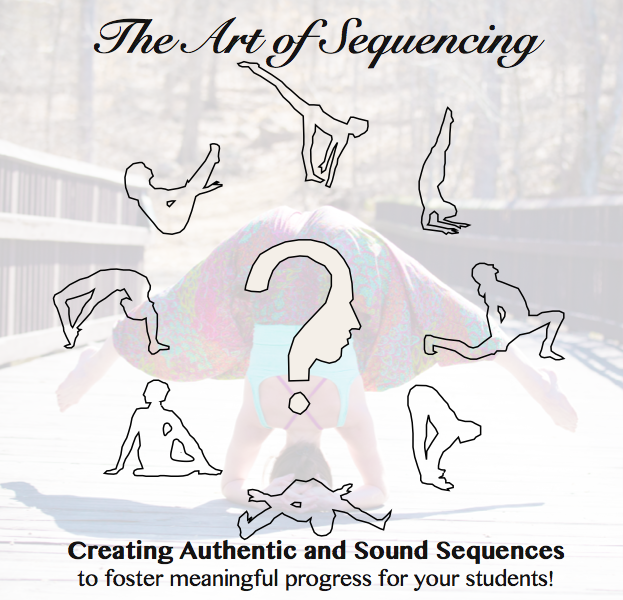 The Art of Sequencing for Yoga Teachers:
Creating Authentic and Sound Sequences to foster meaningful progress for your students!
5 hours of Continuing Education Credits for Yoga Teachers
Ever wonder how your favorite yoga teachers develop those incredibly inspiring classes that leave you feeling fantastic? Join me for this half-day intensive, and learn to create authentic and sound yoga sequences to foster meaningful progress for your students.
Hatha Yoga (The physical practice of yoga) is an art form used to purify the nadis, balance the system, and open the student for more exploratory and unifying practices. It requires (from the seat of the teacher) passion, curiosity, and confidence. Each time we step on the mat is an opportunity to get to know ourselves a bit better, and as teachers, that same quality should be cultivated in our students. However, in a world where information (some sound and some questionable) is at our fingertips it can be a slippery slope when it comes to the integration of that information into what we already know to be true about the practice from our own exploration and studies. The question is, HOW do we create an EXPERIENCE for our students that is based upon intelligent and embodied information rather than the latest youtube video? If you aren't inspired by what you offer, then what are you really offering?
In this workshop we will review and expand upon the basic elements of a yoga practice and use them to create safe, wise, strong hearted and inspiring sequences that feel authentic to you. Join Jennifer to realize you have all the tools you need, you just have to know when and how to use them! Bring an open heart, questions, and a willingness to learn!
What students can expect:
review of fundamental elements of a yoga sequence and variations on sequencing for Peak Pose, Theme, Chakras and/or Seasons.
Time to create your own sequence and get feedback from your peers (no judgement zone here!)
time to ask and answer the questions-

"What do I need to offer as a teacher to my community?"
"How do I cultivate my art form and maintain the passion for what I do?"

Self Discovery: taking a cue from chapter 3 vs 35 of the Bhagavad Gita let's ask ourselves the question- Where am I competing in another teacher's dharma through impersonation or insecurity rather than striving in my own and how do I shift gears to honor my own inspiration?"
Open to teachers of all disciplines. This will be the more yang version of sequencing. Yin and Restorative are coming though! Stay tuned! 
$108 for 5 hour workshop – 5 hours of Continuing Education Credits for Yoga Teachers
Advanced Registration strongly suggested as space is limited