UPCOMING EVENTS
SPRING YOGA RETREAT!
Join Jennifer at a luxury mountaintop retreat for 3 nights/days of luxurious practices, delicious food and time to rest in nature….Find out more »
2 hour Sadhana: January 8
2 HOUR SADHANA January 8th 8:30-10:30am EST This class, anchored in the vinyasa krama tradition, will involve 60 minutes of vinyasa and asana, 30 minutes of pranayama and dharana and 30 minutes of philosophy and discussion regarding a particular topic in the yoga shastras. A full practice experience. Online via Zoom pre-registration required. Class limited to 15 people. please email jennifer@campbellyoga.com to sign up. CLICK HERE TO REGISTER Find out more »
Exploring Vinyasa Krama Series. Part 1: January 15-16
EXPLORING VINYASA KRAMA SERIES Part 1. On your feet This 4 hour workshop will visit the many vinyasas within the revered "on your feet sequence." Beginning from samsthiti (equal standing) and progressing through the arm and shoulder movements, side and rotational movements, standing forward fold and squat variations there are 100s of vinyasas to explore from a few asana sthiti (base positions). These vinyasas comprehensively address mobility in the joints from the top down and open the breathing structure to…Find out more »
---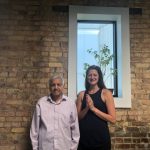 Jennifer Campbell-Overbeeke E-RYT500 YACEP has been teaching yoga for over a decade and practicing for close to 20 years. She is thrilled to bring the lineage of Krishnamacharya forward as taught to her by her Guru Srivatsa Ramaswami- the longest standing student of Sri Krishnamacharya outside the direct family. This practice is a great boon to all and she is ecstatic to share the rich and in depth tradition. The gifts are endless!