See what's around the bend
Begin Here. introduction to yoga series:
February 20-March 13
This 4 session series is geared towards those completely new to yoga or in need of a refresher. With a foundation in the Vinyasa krama system you will learn fundamental yoga asana (physicall postures) and their appropriate vinyasas (intelligent movements) with long smooth breathing to reduce stiffness and discomfort in the body. An introduction to pranayama (here specifically breathing techniques) will be introduced as tools to clear the dullness of the mind and work with the nervous system. Introduction to simple and practical means of meditaiton will also be discussed. The aim of vinyasa krama yoga is first and foremost to establish a peaceful relationship with the body and mind. No bells, whistles or severe means necessary. This is sustainable yoga for life. Find out more »
Exploring Vinyasa Krama Series. Part 2: March 26-27
EXPLORING VINYASA KRAMA SERIES Part 2. Trkonasana Series This 4 hour workshop will visit the many vinyasas within the trkonasana sequence. A popular group of asana, the trkonasana series involves 5 key subgroups where in the hips and legs are strengthened and stretched, circulation can be enhanced in the back, neck, hips, legs and feet, and balance is again cultivated (with a wider base). Certain vinyasas will be taught that may be helpful to many practitioners to bring a sense of overall suppleness…Find out more »
SPRING YOGA RETREAT! Full, waitlist available
Join Jennifer at a luxury mountaintop retreat for 3 nights/days of luxurious practices, delicious food and time to rest in nature….Find out more »
2 hour Sadhana: May 7
2 HOUR SADHANA January 8th 8:00-10:00am EST This class, anchored in the vinyasa krama tradition, will involve 60 minutes of vinyasa and asana, 30-45 minutes of pranayama and dharana and remaining time philosophy and discussion regarding a particular topic in the yoga shastras. A full practice experience. Online via Zoom pre-registration required. Class limited to 15 people. please email jennifer@campbellyoga.com to sign up.
---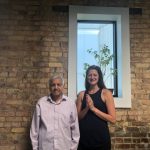 Jennifer Campbell-Overbeeke E-RYT500 YACEP has been teaching yoga for over a decade and practicing for close to 20 years. She is thrilled to bring the lineage of Krishnamacharya forward as taught to her by her Guru Srivatsa Ramaswami- the longest standing student of Sri Krishnamacharya outside the direct family. This practice is a great boon to all and she is ecstatic to share the rich and in depth tradition. The gifts are endless!