Begin Here 
February 13, 2022 @ 8:30 am

-

March 6, 2022 @ 10:00 am

UTC-4

$60 – $100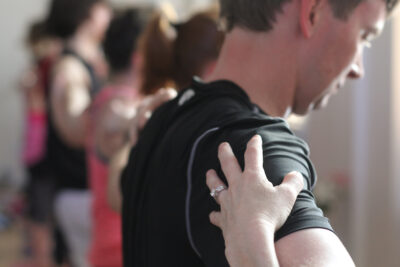 Begin Here
February 13-March 6
Sundays 8:30-10am EST
This 4 session series is geared towards those completely new to yoga or in need of a refresher. With a foundation in the Vinyasa krama system you will learn fundamental yoga asana (physicall postures) and their appropriate vinyasas (intelligent movements) with long smooth breathing to reduce stiffness and discomfort in the body. An introduction to pranayama (here specifically breathing techniques) will be introduced as tools to clear the dullness of the mind and work with the nervous system. Introduction to simple and practical means of meditaiton will also be discussed. The aim of vinyasa krama yoga is first and foremost to establish a peaceful relationship with the body and mind. No bells, whistles or severe means necessary. This is sustainable yoga for life.
The format for learning will include both demonstration from kind community members and guided instruction from a seasoned teacher. Time will be available to discuss the learned elements and ask any clarifying questions you may have in a supportive environment. 
By the end of these 4 sessions you will have strong foundation for a breath guided yoga practice as a personal support. This will also give you the tools you need to go deeper into the vinyasa krama system either through our regular weekly classes, workshops or one-on-one instruction if you choose to do so. In addition you will be provided with a 30-45 minute video practice each week you can follow  to reinforce what you have learned. This practice is downloadable and yours to keep.
All sessions will be live on ZOOM Sunday mornings from 8:30-10am EST. Classes will be recorded both for your review during the week and as a resource to those who must miss a session. Recordings will be available for 6 days after each class.
Fee is sliding scale. Please contribute what you are able: $60-$100
If you are out of work and unable to pay the full amount please reach out to me. 
If you would like to sponsor another student please let me know as well. You can email jennifer@campbellyoga.com to do so. 
TO REGISTER:
email jennifer@campbellyoga.com with your intention to participate.