Introduction to Vinyasa Krama Yoga
February 21 @ 9:30 am

-

March 14 @ 11:00 am

$75
Introduction to vinyasa krama
In this 4 week online and interactive series you will be introduced to the profound effects of the vinyasa krama system of yoga. Passed down by my teacher Srivatsa Ramaswami from his teacher, the father of modern yoga- Tirumalai Krishnamacharya- this practice is holistic, adaptable and transformative. This is lifelong yoga and yoga for life! Come experience the friendship of the breath and mind on the path to peace. 
This series is ideal for brand new practitioners to yoga, new practitioners to vinyasa krama and/or regular practitioners of vinyasa krama hoping for a supportive environment to refine and grow their practice. 
Campbell Yoga Online community is a kind and compassionate space for inquiry and growth.
---
what you will learn and receive
Adaptable standing, seated, prone and reclining sequences to access ease and stability in the entire body
fundamentals of breath and attention in movement and stillness
methods of relaxation and releasing distractions
foundations of breathing practice: pranayama

 

techniques to focus and calm the mind

 

a steady foundation for lifelong practice
downloadable resources to assist you as you learn
40% off a private lesson with Jennifer or 50% off first month's access to CampbellYogaonline.com class library
the support of a kind and dedicated community and seasoned teacher
Sessions are on Sundays, February 21-March 14: 9:30am-11:00am EST
Recordings of sessions will be available for 1 week after each class as a support to your practice and learning. 
---
Investment: $75.  
Bring a friend and you both receive 25% off registration
To register use either  VENMO or PayPal for your contributions with the note "Intro to Vinyasa Krama February." Please confirm your registration via email jennifer@campbellyoga.com
Scholarships available for those out of work or in need of financial assistance. Inquire by above email.
---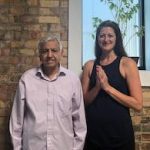 Jennifer Campbell-Overbeeke E-RYT500 YACEP has been teaching yoga full time for over 12 years and practicing for nearly 20 years. Initially drawn to the practice in college as an avenue to physical health she found so much more…ease of mind and a path to ultimate peace. Jennifer is trained in classical hatha, yin, restorative and vinyasa yoga. Her deepest passion lies in vinyasa krama. This system emphasizes an embodied practice of yoga through the lessons of the breath. Her biggest influence and dearest teacher is Srivatsa Ramaswami. Ramaswami (Sir as he is lovingly referred to amongst his students) studied directly for 30 years with Tirumalai Krishnamacharya- the teacher of teachers and the father of modern yoga. Krishnamacharya's revolutionary approach to yoga for all stages of life and all people is curated with devotion and clarity in Sir's teachings. Jennifer is indebted to this lineage for the profound impact it has had in her life and the way in which it has transformed her teaching to benefit so many. Jennifer offers additional gratitude to Dr. MA Jayashree of Mysore India for her generous tutelage of sanskrit mantra. When not teaching or practicing Jennifer enjoys hiking and exploring her home in the mountains of North Carolina or enjoying a long walk with her husband and 3 dogs.
"No one is wise by birth, for wisdom results from one own's efforts." ~Tirumalai Krishnamacharya